New Fibre Laser Technology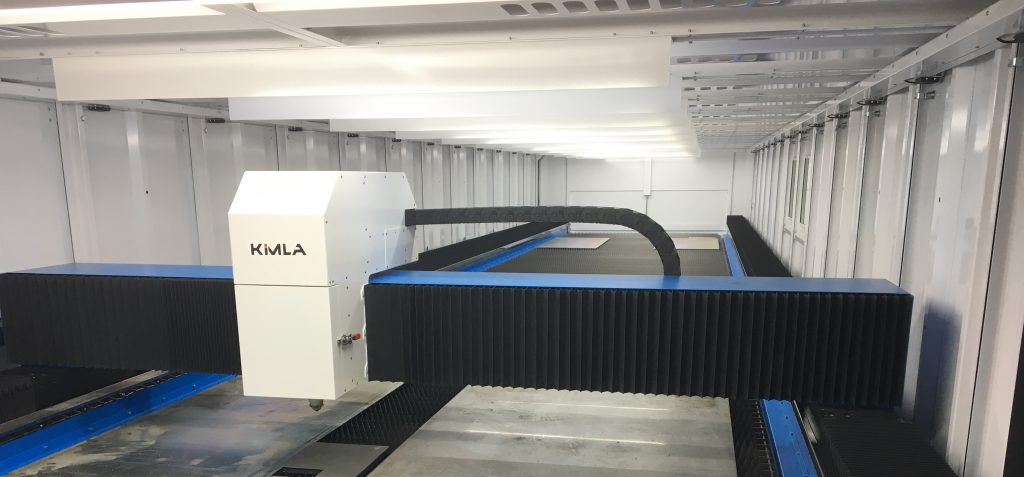 Kimla Powercut 4kW Fibre Laser with cutting area of 10m x 2m without re-position is our newest addition to cutting services we offer. It's equipped with an inkjet printer for rapid part identification. It can also detect multiple sheets on a single bed for a continuous process and of course it is fast! Check it out here.
Skill vs Technology
We still have traditional plating skills to allow us to take on large square to rounds etc. Technology can help you bend it but can't tell you how to.
Up to 9 metre long bending with increased throat
Our latest LVD tandem press is capable of forming parts up to 9000 mm long with first bend depth up to 605 mm, pushing the boundaries even further. When in tandem, we have a combined force of 640 tonnes.
Heavy gauge ready
Our powerful presses can handle 7100 mm long and 5100 mm long components with 650 tonnes of pressure each.
Extensive range of tooling
All our press brakes are equipped with a range of tooling that can produce virtually any shape at any length, including sharp bends and pinch formed parts. Please also visit gallery to see what we can do.
Amada EML 3610 Combination Punch/ 4kW Laser
This machine offers a unique blend of punching and laser cutting. Our brushed table offers protection against scratches. It holds 45 tools of various shapes. It can also put simple forms into parts like dimples, swages, beads, countersinks or even hinges. The laser compensates for any unusual shapes.
Pyramid power rollers 3 metre wide
Servicing various industries for all their rolling requirements from 250 mm inside diameter upwards.
Estimating
Our sales team run by the sales manager are ready to take your enquiries. We utilize a production control software developed by Berkeley Myles Solutions and is aptly named "Progress". It takes us from your initial enquiry through to delivery and invoice. Please contact us for any enquiries.
---
Capacity list:
Press Brakes:
LVD press brakes 2 x 4500 mm – 640 t giving up to 9 m bend length
Edwards Pearson press brake 7100 mm – 650 tonnes
Edwards Pearson press brake 5100 mm – 650 tonnes
Edwards Pearson press brake 5000 mm – 330 tonnes
Edwards Pearson press brakes 2 x 4000 mm – 500 t giving up to 8 m bend length
Edwards Pearson press brake 4000 mm – 250 tonnes
Edwards Pearson press brake 1500 mm – 30 tonnes
Cutting:
Kimla Powercut 4kW Fibre Laser – cutting capacity 10000 x 2000 mm with InkJet printer

Kimla Powercut 6kW Fibre Laser – cutting capacity 4000 x 2000 mm

Amada EML 3610 Combination Punch/ 4kW Laser – cutting length up to 9000 mm, cutting width up to 1830 mm
Edward Pearson CNC Guilottine 4000 mm long (cutting thickness up to 10 mm mild steel)
CNC Saw
Rolling:
Pyramid Power Rollers – 3000 mm wide (rolling from 250 mm inside diameter upwards)
Welding:
ESAB Pulse 4004L
MUREX Transtig AC/DC 352
MUREX Transtig AC/DC 375S
SELCO PSM506
Handling:
8 overhead cranes ranging from 1 tonne up to 5 tonne
multi directional Combi Lift with 4 tonne lifting capacity for long sheets
Toyota 2.5 tonne counterbalance fork lift truck
suction lift with 2,5 tonne capacity capable of lifting 8 meter sheets
suction lift with 750 kg capacity for smaller sheets
Transport:
2 DAF trucks 7.5t flat back
CAD:
Production Planning and Estimates:
Quality:
Health and Safety